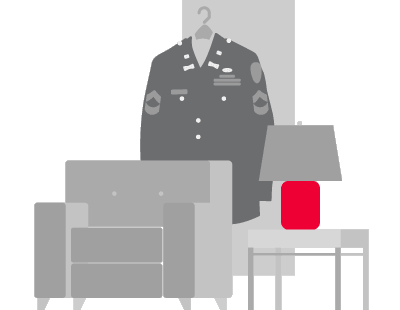 Military service members looking to make their new apartment a cozy place to call home now have a multitude of options when they're relocating. CORT Furniture Rental has special deals and offers for service members. At CORT, we understand that you want everyplace you move to feel like home, and now it can! Whether you're planning for a long term or short-term stay, CORT Furniture Rental has the solution for you. Choose the perfect style for your new space and have your new place ready in as little as 48 hours!
Pick a Package That Works for YOU
Whether you are packing up your whole family for relocation, or you're a bachelor GI looking for a place to call home, CORT Furniture has the perfect rental package for you. You'll have the option to build your own personalized military whole-home package with any of our three starter packages. For a simple start, check out our Standard Issue package, including living room, dining room, and bedroom furniture. Bachelors will feel right at home with our Geo Bachelor's package which includes all the things from the Standard Issue package plus the staples of any bachelor pad: a recliner, 39" TV, lamp, and TV stand. Need more for your family space? Look into the Barracks Breakout package. This package includes all of your kitchen essentials in addition to all of the items from the Geo Bachelor's package.
Don't know how long you'll need to stay? No problem! When you're renting furniture with CORT as a military member, you can take advantage of our military out clause. This clause allows you to return your rentals anytime you need to relocate without the fear of incurring early termination fees.