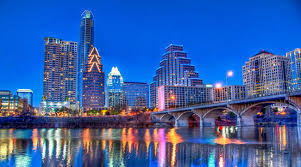 As the capital of Texas, the city of Austin is a thriving metropolis with unique character and lots to offer. Those looking for an apartment in Austin are probably wondering where to find the best apartments in Austin, what the Austin nightlife is like, what you can do in Austin for fun, and more. If you are moving to Austin or just want to get to know the city better, read the ApartmentSearch.com guide to Austin. Austin apartments, restaurants, nightlife, schools, and neighborhoods are easy to find when you know where to look.
The Best Apartments in Austin
Austin has over 50 neighborhoods, each with unique characteristics. Generally, Austin can be divided into Central, West, Southwest, South, Southeast, East, and North areas. Just outside of Austin, there are a variety of apartments in Round Rock, Cedar Park, and Pflugerville. There are high-end apartments spread throughout the city, with neighborhoods that cater specifically to the city's student population, as well as neighborhoods with populations of single professionals, young families, and single-family homes. Students looking for an Austin apartment in a walkable neighborhood will find ones downtown, in West Campus, and in North Campus. Apartment-dwellers who are searching for apartments outside of central Austin will need a car or a lengthy bus ride to reach the central part of the city.
Working in Austin
With a growing presence in the tech and pharmaceutical industries; a thriving startup community; an employable population of college graduates; and a large number of primary, secondary, and higher education institutions, the Austin job market is diverse. Major Austin employers include Intel, 3M, Texas Instruments, the Austin Independent School District, IBM, Seton Family of Hospitals, and the University of Texas at Austin. Just north of Austin, Dell's headquarters are stationed in Round Rock.
Austin Statistics – Crime, Schools, Salaries, and More
Austin has a population of more than 840,000 residents. It has a large student population, as it is home to the University of Texas at Austin, St. Edward's University, and more than 10 other higher education institutions. There are 29 public school districts in the Austin area, the largest of which is the Austin Independent School District. There are also 17 charter schools and 69 private schools. According to the FBI, Austin is the second safest major city in the U.S. For a full picture of Austin crime rates, average salaries, school demographics, typical cost of living, and more, it can help to use an online community information tool.
Getting around Austin
If you move to Austin you will most likely need a car or a bicycle to get around. According to Walk Score, Austin has a walk score of 35, a bike score of 45, and a transit score of 33. While Austin is a bike-friendly city with a good amount of public transportation, the city is fairly spread out, so getting around can be a challenge if you do not have a car. Capitol Metro, Austin's public transportation provider, has 50 bus routes, 9 express bus routes, a "MetroRail" route between Leander and downtown, and 18 shuttles that serve UT Austin.
What to Do in Austin
Austin is home to some of the best food, nightlife, music, shopping, and outdoor activities. With hundreds of independent local shops—including eateries, boutiques, bookstores, bars, coffee shops, and art galleries—Austin is home to one-of-a-kind food and fare. As the Live Music Capital of the World, Austin has more than 250 live music venues. The city also annually hosts major festivals like Austin City Limits Music Festival, Fun Fun Fun Fest, Austin Film Festival, and South by Southwest. For outdoor fun, visit Zilker Park, Barton Springs Pool, Deep Eddy Pool, Lake Travis, or any one of the dozens of trails throughout Austin.
More about Austin from ApartmentSearch.com
Want to know more about the best places to live in Austin? See the ApartmentSearch.com map of Austin, Texas to view the best Austin apartments, the best restaurants, the best nightlife, most popular Austin attractions, and more.