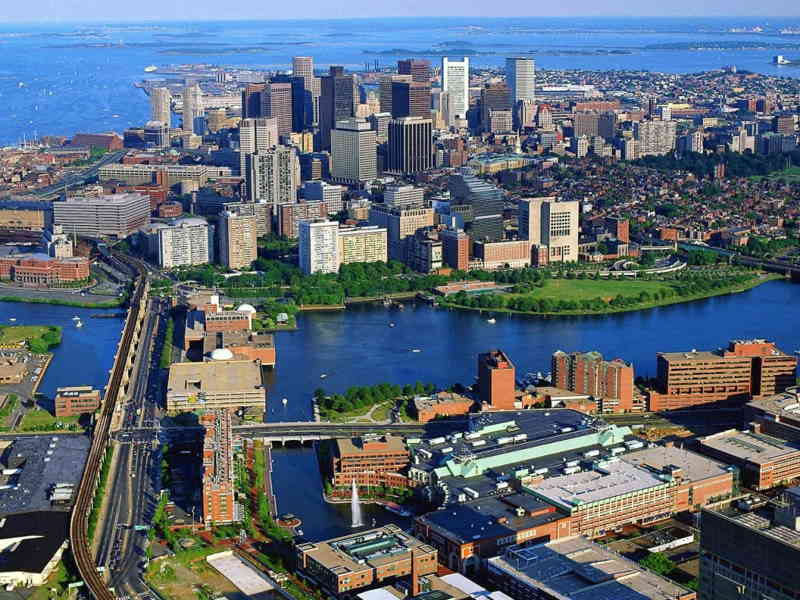 If you are moving to the Boston, Massachusetts area, you might have a lot to learn about the city before your move. Boston has a rich history, and a variety of neighborhoods and types of apartments from which to choose. As such, moving to the Boston area brings with it a particular variety of moving questions. Which Boston neighborhoods are best for your price range? What is the best way to get around Boston? What fun things can you do when you live in Boston? Knowing the answers to these kinds of questions can make finding and choosing a Boston apartment easier. To start your Boston apartment search, think about these factors before choosing a place to live.
The Best Apartments in Boston
There are 21 officially-designated neighborhoods in Boston, each of them with a unique history and different offerings. Whether you are moving to Boston for school, with your family, or for a job, you can find a Boston apartment in a neighborhood that is right for you.
The North End is one of the many historic areas in Boston. North End is home to lots of professionals, renovated historic buildings, and luxury complexes. Generally higher-priced than other areas in Boston, North End is easily traveled without a car, and hosts some fantastic restaurants. Chinatown also features some beautifully renovated buildings and new high-rise apartment buildings.
For cheaper apartments in Boston that still have lots to offer, the neighborhood of Allston has tons of options like single family homes, student homes, and student apartments. Cambridge (just across the Charles River) has rentals that are good Boston apartments for students.
Working in Boston
With an average commute time of 13 minutes, Boston and the Boston area are home to some of the biggest names in finance and technology. Fidelity Investments, Microsoft, Twitter, Cisco, Hewlett-Packard, Houghton Mifflin, the Santander bank headquarters, and the State Street Corporation are all prominent employers in the Boston area. Massachusetts General Hospital also serves as a major employer of healthcare professionals.
Boston Statistics – Crime, Schools, Salary, and More
Anyone moving to a new city should know about the city's demographics. To gather this information, use an online community information tool to learn about the cost of living, school demographics and statistics, the average city salary, crime reports, and more.
The Boston area is home to over 100 colleges and universities, including Harvard University, MIT, Boston University, and Tufts University. Established in 1647, the Boston Public Schools school district has more than 55,000 students and over 4,500 teachers.
Getting around Boston
When looking for the right Boston apartment building, you should take into account how you will be getting around the city. Boston is a walkable city, is fairly bike-friendly, and has a variety of public transportation methods from which to choose, so whether you are with or without a car, you should­ be able to travel with relative ease. Boston is rated on Walk Score as a "Very Walkable" city. Walk Score rates an area based on its walkability, evaluating the ease with which inhabitants can travel without a car. (A score of 0 would indicate an area that is mostly car-dependent, while 100 would indicate a completely walk-friendly city.) Boston has a Walk Score of 80, a Transit Score of 75, and a Bike Score of 68. Public transit options include more than 100 bus lines, 12 rail lines, a bike-sharing system.
What to Do in Boston
Boston offers diverse entertainment options and a thriving nightlife. As a historic American city, Boston is home to places like the Boston Public Library, the Boston Tea Party Ship and Museum, and the Paul Revere House. Future renters in Boston can count on a variety of beautiful outdoor options like the Boston Public Garden, Boston Common, Freedom Trail, and the Charles River Esplanade. To get your fix of art, visit the Institute of Contemporary Art, the Museum of Fine Arts, or the Boston Symphony, or visit the Washington Street Theatre District just south of Boston Common.
More about Boston from ApartmentSearch.com
To view our map with the 25 best high-end apartments in Boston, Massachusetts plus the best restaurants, entertainment, parks, schools, attractions, and more in the surrounding area, click here. With ApartmentSearch.com and our moving resources, locating and settling into your new Boston apartment can be easy.