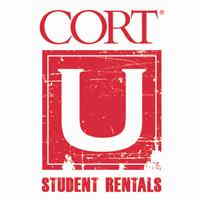 College students hoping to furnish their new apartments from ApartmentSearch.com have a lot of options when it comes to incorporating style with their furniture. That's why students should look to CORT for all their furniture needs! Renting furniture is a great option when budgets are tight and furniture is needed quickly. Instead of spending a lot of cash up front for furniture that students may just need for a year or two, consider CORT's furniture rental for students or even used furniture options. Especially since the college years often include multiple moves, rental furniture is a fashionable solution for outfitting your new place without any of the hassle of maintaining owned furniture.
It's so easy - just choose your style, choose your space, and then personalize the look. At CORT, we have several style profiles for our student customers; some are more minimalist while others offer more creativity and expression. Students get to decide what feels right for their new apartment. Then, just let us know what space you need to furnish. A bedroom? The whole apartment? We can help, no matter what your needs are. Finally, personalize the look with additional home goods like a 42" TV or bathroom accessories.
Making Change Easy
The best part? With furniture rental, students can change the look and feel of their apartment every year. CORT's furniture rental for student apartments offers an affordable alternative to purchasing new household items without sacrificing on quality.
Students can rent furniture for up to three rooms for only $119 a month.* Have a roommate? Add an additional room onto your place for the low cost of $55 a month.*
For many college students, their first apartment is an opportunity to express their newfound independence. Have your new ApartmentSearch.com apartment feel more unique to your student style by renting furniture with CORT.
*Prices dependent on 12-month furniture lease and valid student ID, which must be presented before delivery.