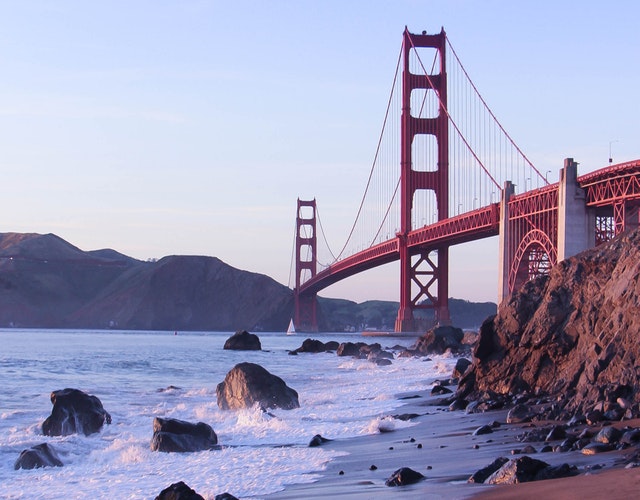 San Francisco is famous for its open-minded spirit, which draws people from all walks of life across the globe. Bay City continues to welcome thousands of new residents every year, and it's not hard to see why.
The city's iconic landmarks, world-class neighborhoods, low unemployment rate, and flawless transportation options make San Francisco a top location for anyone looking to relocate—no matter who you are!
San Francisco's Best Neighborhoods
San Francisco has a neighborhood to suit any personality or lifestyle, from the busy young professional to the laid-back bohemian.
Downtown: As in most cities, San Francisco's downtown area is a hub of activity. For those looking for a fast-paced, urban environment where there is always something to do, look no further! Downtown San Francisco—generally considered by locals to include Union Square and the Financial District—boasts an endless supply of sights, restaurants, shops, and nightlife. The area's many corporate work offices and event spaces make it a desired spot for young professional renters.
SoMa: Located just south of Market Street, SoMa (South of Market) is an expansive neighborhood with a wealth of culture and diversity. The area contains many of San Francisco's best museums, as well as a number of Internet and software company headquarters. Specialty cafes, nightclubs, and bars dot the streets, among several vacant warehouses awaiting renovation. Catch a Giants game at AT&T Park while you're exploring everything this neighborhood has to offer!
Hayes Valley: This neighborhood is one of the hottest up and coming areas of San Francisco. With its high-end boutiques, trendy restaurants, and swanky bars, Hayes Valley is a hipster hotspot. Take a stroll here and bask in the famous Victorian and Edwardian architecture. You'll be packing your bags for a Hayes Valley apartment in no time!
Dogpatch: A memorable name isn't the only thing this neighborhood has to offer. After years of working-class grit on the waterfront of the San Francisco Bay, Dogpatch is experiencing a renaissance. Most of the area's warehouses and factories have been repurposed into live-in art studios or shared workspaces, though its industrial feel remains. Meanwhile, the farm-to-table restaurant scene is also attracting a fair share of young professionals and older residents.
Potrero Hill: Can you say "Bay City views?" This east San Francisco neighborhood will leave you breathless with its stunning cityscapes. The area now provides a family-centric feel for residents. Potrero Hill is known for its sunny weather, laid-back vibe, and easy access to many of San Francisco's top attractions.
Whether you opt for a high-rise loft Downtown or a charming townhouse in Hayes Valley, you'll want a space that feels like home. With CORT furniture rentals, any apartment can become a furnished apartment in a flash! Take the hassle out of moving and avoid long-term furniture costs. Plus, get all of your new furniture delivered and set up for you by the CORT team!
San Francisco Transportation
No matter where you live, getting around is going to be a top priority. While many residents own their own vehicles, Bay Area traffic is infamous. Luckily, San Francisco offers a number of great public transportation options.
Bay Area Rapid Transit (BART): BART is the fifth-busiest heavy rail rapid transit system in the U.S. It serves the San Francisco Bay Area and connects to Oakland along with several outer suburban areas in Alameda, Contra Costa, and San Mateo counties. BART can also get you to all major airports.
The Muni: The San Francisco Municipal Railway (Muni) is the seventh largest public transit system in the U.S. and the second largest in California behind Los Angeles! Trains, buses, and streetcars—oh my! The Muni's fleet includes 54 bus lines, 17 trolleybuses, 7 above-ground rail lines, a subway tube, and even San Francisco's famous streetcars. It operates 365 days a year.
Caltrain: If you live near one of the two Caltrain stations in San Francisco (one in SoMa & one in Potrero Hill), you can take this fast commuter rail down the peninsula to San Jose and the South Bay.
San Francisco's Top Attractions
Once you know your favorite neighborhood and how to get around, map your visit (and your next move!) around San Francisco's top attractions.
The Golden Gate Bridge: No visit to Bay City would be complete without visiting the "gateway to San Francisco!" This mind-blowing piece of architecture connects the one-mile strait separating the San Francisco Bay from the Pacific Ocean. It was named a Wonder of the Modern World by the American Society of Civil Engineers.
Alcatraz Island: The subject of countless movies, the brief residence of Al Capone, and the home of a prison deemed "unescapable," the mythos of Alcatraz Island speaks for itself. Though Alcatraz Federal Penitentiary closed in 1963, visitors can still tour the island and its facilities.
Lombard Street: Any photographer visiting San Francisco will want to stop by this famous street. Visitors claim Lombard Street is the "crookedest street in the world"—and for good reason. It has eight hairpin turns!
Fisherman's Wharf: This neighborhood and popular tourist attraction on the waterfront offers great views of the Golden Gate Bridge and Alcatraz Island. Browse the souvenir shops on the pier, buy crab or clam chowder at from local vendors, tour historic ships, or admire the colony of sea lions!
Now that you're in the know about San Francisco's top neighborhoods, transportation options, and attractions—it's time to go! Find apartments in San Francisco with help from ApartmentSearch and make your move.