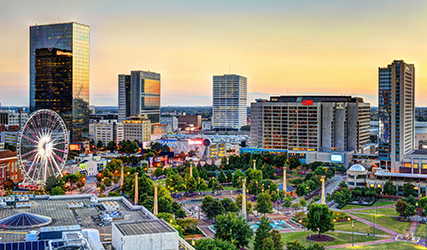 If you are moving to Atlanta, Georgia and are looking for an apartment, there are a lot of things you'll want to know. In addition to all of the usual moving quandaries, you'll want to know the best places to live in Atlanta, where the best Atlanta apartments are, where to eat, how you can travel in Atlanta, things to do in the city—in short, what it's really like to live in Atlanta. Prepare for your move to Georgia and start your apartment search here.
The Best Apartments in Atlanta
Atlanta boasts apartments in a variety of neighborhoods, so newcomers wondering where they should live in Atlanta have a lot of options. Atlanta apartments sprawl from downtown to midtown and out into the Atlanta suburbs. Modern apartments, luxury apartments, and condominiums are more likely to be found closer to the center of the city, and include restored brick buildings in Midtown. Those looking for a family home or apartment might have better luck in an Atlanta suburb like Reynoldstown or Edgewood.
Working in Atlanta
Work opportunities are drawing Atlanta residents out of the suburbs and into the city. Major corporate employers in Atlanta include:
UPS
Coca Cola
The Home Depot
AT&T
Delta Airlines
Atlanta Statistics – Crime, Schools, Salary, and More
Learning about the population, economy, and crime rate are some of the most important things you can do before moving to a new city. To get this kind of information before moving to Atlanta, use an online community information tool to learn about the cost of living, school demographics and statistics, the average city salary, crime reports, and more.
There are over 30 colleges and universities located in Atlanta, including the Georgia Institute of Technology, Georgia State University, Emory University, and Morehouse College.
Getting around Atlanta
If you are working in Atlanta, you will most likely have to commute or drive. Atlanta earns a Walk Score of 46 and a transit score of 43. (Walk Score evaluates the ease with which residents of a city can travel without a car. A score of 0 would be given to a mostly car-dependent area, while 100 would be awarded to a totally walking-friendly city.) Atlanta has 65 bus lines, 4 subway lines, and a light rail. If you are looking for an Atlanta neighborhood that is walking-friendly, try Buckhead Village, Midtown, or Sweet Auburn.
What to Do in Atlanta
Atlanta is fun both for tourists and for permanent residents. With lots of attractions, a fun food culture, parks, and more, residents of Atlanta won't want for things to do. For some outdoorsy fun, visit the Atlantic Botanical Garden, Piedmont Park, Centennial Olympic Park, or Eastside Trail. To soak up some culture, visit the Woodruff Arts Center or the High Museum of Art, take in a show at The Fox Theatre, Atlanta Shakespeare Co., or Chastain Park Amphitheater. To enjoy America's favorite pastime, catch a Braves game at Turner Field. To see a little of Atlanta's history, visit the MLK National Historic Site. For wildlife, head over to the enormous Georgia Aquarium or the Atlanta Zoo.
More about Atlanta from ApartmentSearch.com
To see the ApartmentSearch.com Best of Atlanta, Georgia map featuring the best 25 high-end places to live in Atlanta, the best restaurants nearby, popular attractions and nightlife in the area, and more, click here. You can use this map to plan your move to the city and make your Atlanta apartment search easier.