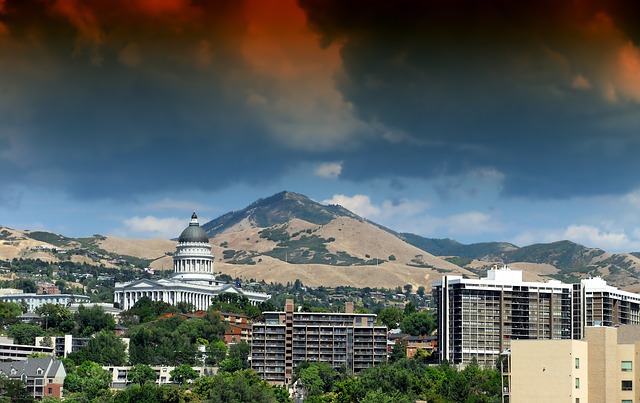 When you're thinking about moving, there are so many possibilities to consider. Do you want to live in an outdoorsy paradise, with mountains and rivers and lakes galore? Are you more of a city person, looking for the conveniences of a bustling metropolis? Are you hoping to find a city that has both? If so, Salt Lake City might be the perfect future home for you!
The Best Salt Lake City Apartments
As Utah's largest city, Salt Lake City has plenty of housing options for every type of family, lifestyle, and budget. Like most big cities, finding the perfect area for you starts with learning all about the different neighborhoods. Here are a few of SLC's most popular 'hoods – but there are plenty more where you can find great Salt Lake City apartments!
Downtown: If you want to be in the center of the action, look downtown. This is the epicenter of SLC culture and nightlife, and there's always something going on. Luckily, there are plenty of new apartments and condos in the heart of the city – though living here can be pricier than living in other neighborhoods.
Central City: Central City describes itself as the perfect compromise between downtown and suburban living. Home to trendy eateries, art galleries, historical landmarks, and fun shops, there is plenty to see and do. Make sure to visit gorgeous Liberty Park, Salt Lake City's biggest green space.
Sugar House: Sugar House is one of the most popular neighborhoods in Salt Lake City, and for good reason. It's proud of its cool restaurants, eclectic boutiques, and various "mom & pop" shops. It's home to Westminster College, so this neighborhood definitely has a young feel.
The Avenues/Capitol Hill: The Avenues and Capitol Hill are two of SLC's oldest and most desirable neighborhoods, thanks in part to their close proximity and easy commute to downtown. Described as "charming, historic, and liberal," these areas are home to many young professionals, and they've become hotspots for new restaurants and shops.
Rose Park: When Rose Park was developed, it was actually laid out to look like several roses… hence its adorable name! This neighborhood is also one of Utah's most ethnically diverse areas and it attracts many young families. It's small, walkable, and laid back, and it's also only a short, five minute commute to downtown.
No matter which neighborhood you're considering, ApartmentSearch is here to help. Best of all, any apartment in Salt Lake City can be a furnished apartment in Salt Lake City! Whether your move is last minute or short-term, renting a furnished apartment can make your move a breeze.
Getting Around Salt Lake City
The easiest way to get around Salt Lake City is by car or the city's public transportation. The Utah Transit Authority makes navigating Salt Lake City simple, offering buses, a light rail, and a commuter rail. If you're hoping to explore the parks and ski resorts located outside of the city center, you'll want your own vehicle.
Many of the individual neighborhoods are walkable, particularly the downtown area. However, you'll need to rely on public transportation or a personal vehicle to get between neighborhoods.
What to Do in Salt Lake City
Salt Lake City has, undoubtedly, one of the prettiest backdrops of any U.S. city. Located in Salt Lake Valley, the city sits at the base of the picturesque Wasatch and Oquirrh Mountains. Its namesake, the Great Salt Lake, is located northwest of the city. Unsurprisingly, Salt Lake City residents take full advantage of their gorgeous backyard! Spend sunny days hiking, rock climbing, or taking a dip in one of the many rivers or reservoirs in the Wasatch Mountains. In the winter, hit the slopes at one of SLC's many nearby ski resorts.
One of Salt Lake City's most famous attractions is the Sundance Film Festival, which attracts movie stars and fans alike every winter. There's no shortage of entertainment options during the rest of the year, though – Salt Lake City also has The Off-Broadway Theatre, the Mormon Tabernacle Choir, the Utah Symphony Orchestra, and too many movie theaters and museums to list.

Now that you're in the know, it's time to go! Search recently listed Salt Lake City apartments today and make your move!