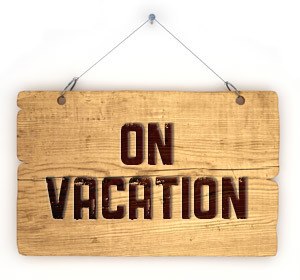 According to the most recent statistics released by the FBI, in 2014 there were an estimated 8,277,829 property crimes, with financial losses calculated at approximately $14.3 billion. To better avoid becoming part of these statistics over summer vacation, take simple steps to protect your belongings, your privacy, and even your pet from harm while you're away. The following tips can serve as a basic checklist to help keep your apartment safe during the summer months. Print them out, grab a pen, and check them off before you head out the door!
Tip #1: Lock doors and windows. Locking your apartment may seem like the most basic of precautions, but it's worth mentioning in these tips. Windows are the easiest to forget when locking up for vacation. Remember to lock and double check every entry-point, including your bathroom and kitchen window if you have them. While this precaution won't stop an incredibly determined burglar, it will make it more difficult for them to enter your apartment and will give your neighbors or apartment manager more time to call the authorities.
Tip #2: Set an appropriate temperature. Summer temperatures can get very hot, depending on your location, so make sure to choose a temperature that fits the climate of your area (and your budget). Apartments located in the north may be able to set their thermostat to 72 degrees, knowing that the unit may rarely have to kick on to regulate the temperature. If you live in the south, though, you may want to set your unit's temperature to 75-78 degrees. By keeping some A/C turned on, you'll help prevent damage to musical instruments, keepsakes, and other possessions that may be sensitive to heat. Also, if you're leaving your cat, fish, or bird behind for a few days, consider a temperature that would be appropriate for them too.
Tip #3: Hire someone to watch your apartment. Make your apartment appear occupied. Recruit a friend to "apartment-sit" or hire a service that specializes in taking care of homes when you're out of town. Even if the person you hire comes once every few days, they may help protect your apartment against unwanted visitors by making it look like someone actively lives there. (And they can get the mail, pick up packages, pet the cat, and water the plants too. Win!)
Tip #4: Unplug electronics. According to Daily Finance, the average American has about 40 electronics plugged in at any given time, even when they're not in use. Most of these items (even when "off") continue to pull energy from the grid. Not only is this waste of energy, but while you're away your apartment building could sustain power surges from a summer storm. To avoid damage and avoid wasting energy, unplug as many electronics as you can, including your computer, sound system, entertainment system, and small kitchen appliances. It's safer, and you're saving money!
Tip #5: Keep valuables out of sight. If you have windows, make sure to keep your valuables hidden from plain sight. Stash valuables like jewelry, electronics, money, keys and other items that are important to you in drawers, in your closet, or in a box for safe-keeping. Avoid leaving anything out in plain view that may entice a burglar.
Tip #6: Don't announce details on social media. If you're going away, don't announce the details of your plans to the world. Leave some ambiguity about when you're leaving and how long you will be gone. It's possible that someone you don't want to know about your vacation may see your social media status on Facebook, Twitter or Instagram and take advantage of your absence. If you decide to share your vacation on social media, consider posting pictures after you return, instead of during your vacation.
Tip #7: Move your spare key. It may be convenient to have a spare key outside of your apartment when you're in town, but while you're on vacation, move the key to a different location. If you take an especially long vacation, leaving a hidden key around your apartment may give unwanted visitors more time to break in and enter your apartment. Give your spare key to a trusted friend or neighbor, or relocate it to another place to hinder snooping burglars.
Tip #8: Remember your car. Just like your apartment needs protection when you're away, remember to prepare your car for safety (if you're not using it for travel). Park your car in the shade (if possible), remove valuables from sight, and relocate the spare key if you normally keep a spare attached to the outside of your car.
Tip #9: Don't forget the garage. Some apartment buildings allow tenants to utilize a car garage. If your apartment building offers this amenity, don't forget to take a few extra precautions. Lock the garage door and secure its entrance and windows, if any. If you store valuables in the garage, make sure to hide them, in case someone decides to look inside through a window or a door.
Tip #10: Take out the trash and recyclables. Take care of your trash and recyclable items before you leave. This will prevent your apartment from having a strange odor when you return, but could also help prevent an insect issue while you're away! Bugs that live in trash may thrive in a summer heat wave, so this advice is especially important during summer months and for those living toward the southern part of the United States.
Tip #11: Notify your apartment manager. Letting your trusted apartment manager know that you are going to be away could help them identify a potential security threat or even an unexpected plumbing or electrical issue sooner. For example, if odd noises are coming from your apartment or management receives a complaint, they'll know you aren't the culprit and may respond quicker in light of your absence.
Tip #12: Enter with caution if things look "fishy." If you arrive home from your vacation and see anything unusual, you may want to call your apartment's security provider or a local emergency line before entering your home. For example, if your front door has been tampered with or an apartment window is broken, call the authorities.
Following these twelve precautions can help maintain the safety of your apartment, your possessions,and even your pets while you're away. While there's no fool-proof plan. these tips can help you enjoy peace-of-mind while on vacation. There's nothing worse than landing at your destination and second guessing whether you locked the front door or left a window open!
For year-round safety tips, check out ApartmentSearch.com's Apartment Safety Checklist.